Our year-round sunshine in Las Vegas provides you with the perfect excuse to drop the top and feel the wind in your hair, so, what are you waiting for?
Vegas Vintage Classic Car Rentals can transport you to a simpler time with a variety of classic cars to suit any gear head's fancy. Whether you're a Las Vegas local or a visitor from out of town, a cruise in a vintage muscle car is a great way to spend the day.
Rent For 4 Hours, 8 Hours or 12 Hours
Hotel & Airport Delivery
Personal & Friendly Customer Service
Fast Response Times
Take A Blast To The Past
If you've ever wanted to experience the feel of driving a retro icon, now's your chance. Our selection of vintage car rentals is reminiscent of the hot rods you saw in movies as a child or maybe even the cruisers your parents and grandparents drove you around in growing up. No matter where your nostalgia originates, driving one of these beauties is sure to take you back in time.
Give us a call to get our latest lineup and to check on availability.
Classic American Muscle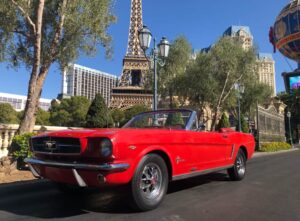 Let's face it, it doesn't get much cooler than a vintage Ford Mustang convertible. These popular (and powerful) hot rods are timeless. 
With a loud V8 engine and a sporty exterior, everyone notices a classic Mustang when they see one on the road. If you've always wanted to drive a classic sports car, this is the one to take for a spin.
Rent A Cool Cadillac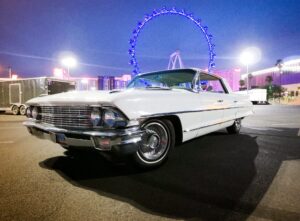 Classic Cadillacs were top-of-the-line status symbols in their heyday and still manage to turn heads. Nothing speaks to a true car lover like an old Cadillac that still runs like a champ. Our 1961 Cadillac Convertible looks and runs as beautifully as the day she came off the lot.
Drop the top and enjoy the cruise. Don't be surprised if you gather a crowd admiring this fine set of vintage wheels.
Classic Car Rental In Vegas
Make memories you won't forget at Vegas Vintage Classic Car Rentals. Renting a classic car is a fun and exciting way to experience Las Vegas. Whether you're in town for a wedding, a bachelor party, a convention, or a show, you can see Vegas the old-school way and drive around in a classic muscle car or vintage cruiser. Contact us today to make a reservation.