If you're planning a rockabilly or vintage wedding in Las Vegas, we have the perfect classic rental cars to make your day special! Tie the knot in Las Vegas in an unforgettable way with a classic car rental. Spice up your ceremony, reception, or honeymoon send-off with transportation that will really make an impression.
We have a variety of beautiful retro vehicles to rent for those special engagement or wedding moments.
Marriage Proposals
Engagement Photos & Parties
Wedding Ceremony Arrival
Wedding Party Photos
Wedding Reception Arrival
Honeymoon Getaway Cars
Please note that this is a car rental service only. No decor, drivers, or additional services will be provided.  Desert photos are for Photo Package Service only.  Self-Drive rentals are to not leave paved roads.
Get Hitched With A Classic Car
Las Vegas is a well-known destination wedding location. Couples from all over the globe travel here for their nuptial ceremonies each and every year. If you're getting ready to take the plunge in our unique city, why not consider other ways to make your wedding really stand out, like renting a classic car?
Imagine cruising around in a vintage Cadillac while enjoying the lights of the Strip with your bridal party. Experience all that neon with the convertible top down. While you're at it, be sure to snap tons of social media-worthy photos to commemorate your special day.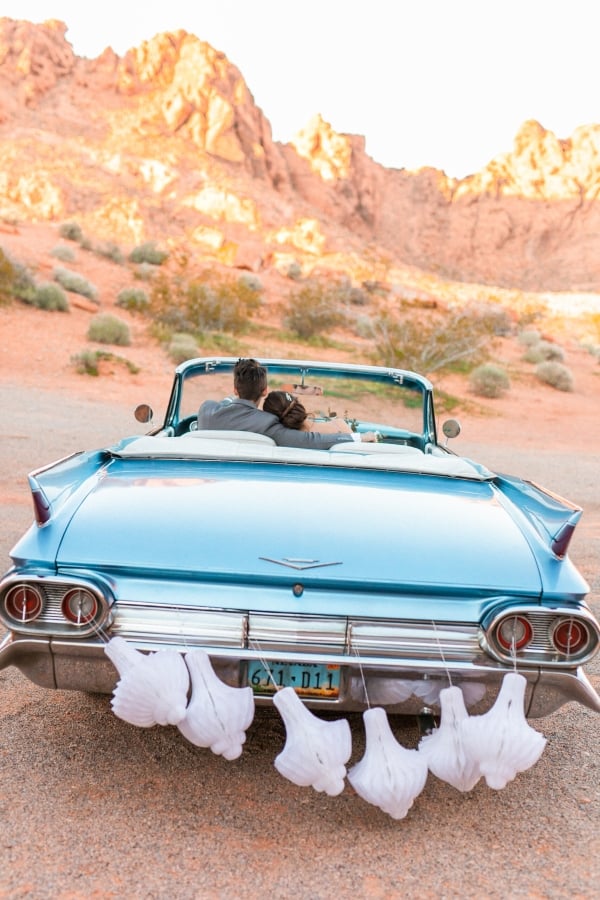 A Photo-Worthy Ride
Classic automobiles make the perfect backdrop for share-worthy pics. We recommend taking advantage of the photo opportunities available in Las Vegas. If you're into classic Vegas culture, stop at the Neon Museum or other time-honored landmarks.
Your Honeymoon Getaway Car
Cruising off toward your honeymoon adventure in a vintage car feels like the ending to a classic romance movie. Embark on your new life adventure together with the top down in a classic convertible. Our vintage car rentals will get you to the resort or airport in style.
A Classic Car For Your Wedding
Make your wedding day one to remember with a classic car rental from Vegas Vintage Car Rentals. Contact us today to get information on the most up -to-date availability and start your reservation.
While we only rent the cars, if you need help planning your ceremony, please contact our partner  – Cactus Collective Weddings – to assist you with your special day.